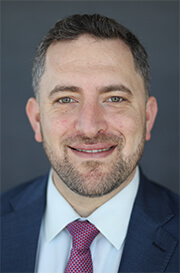 Location:
New York, New York
Joshua Stern joined Block O'Toole & Murphy in May of 2021. He has been practicing law since 2011, after graduating from Touro College Jacob D. Fuchsberg Law Center cum laude.
Mr. Stern went to law school knowing he wanted to become a trial attorney. He tailored his curriculum and activities to this goal, which included acting as the associate editor-in-chief of the Moot Court Honor Society and clerking for Honorable Justice Michele Woodard. In this role, he gained valuable insight into his current trial attorney practice.
Following law school, Mr. Stern began his career as a defense attorney and worked his way up to partner at a large international defense firm, handling numerous catastrophic injury cases and commercial cases on behalf of some of the largest insurance companies in the world. He represented many different defendants in personal injury cases, including construction companies, professional athletes in the NFL and NBA, municipalities, landlords, and businesses. To build upon his skills handling workplace accidents, he obtained OSHA 10 and 30 certifications in order to be part of a construction accident rapid response team.
After observing the devastating effects of construction, trucking, and other accidents on victims and their families, Mr. Stern commenced employment at a longstanding and respected plaintiff's personal injury firm, where he honed his skills representing accident victims. It was here, settling and trying cases for plaintiffs, that he found his calling.
The trust in his skills to handle technical and catastrophic injury cases for defendants and plaintiffs speaks volumes about Mr. Stern's abilities as an attorney. His work has been recognized by the organization Super Lawyers; in 2018, 2019, 2020, and 2021 he was selected as a "Rising Star," an accolade reserved for less than 2.5% of attorneys in New York State. Likewise, he was recognized by The National Trial Lawyers Top 40 Under 40 in 2021 and 2022, a distinction for attorneys under the age of 40 that exemplify superior qualifications, trial results, and leadership.
In his spare time, Mr. Stern enjoys furthering and sharing his legal knowledge. In 2013, he was called upon to give a guest lecture at his alma mater regarding "The Art of Taking a Deposition." In 2019, he presented a webinar to claim representatives and defense attorneys regarding "Understanding the Importance of Contract Provisions within the Context of New York Labor Law."
Armed with knowledge of the inner workings of defense firms, municipalities, private and public companies, and various large insurance companies, Mr. Stern now only represents victims of negligence and other torts. His defense experience has been incredibly helpful in obtaining favorable results for his clients. Although he has only exclusively worked representing injured victims for a short time, and despite the COVID-19 pandemic's impact on lawsuits, he has successfully obtained over $44,000,000 for his clients via trial and settlements. His results at Block O'Toole and Murphy include, but are not limited to the following:
$9,750,000 settlement in a Long Island case for a worker who suffered orthopedic and neurological injuries after falling from scaffolding at a work site
$4,500,000 settlement for a union plumber who sustained severe knee injuries after he tripped and fell at a work site
$4,000,000 settlement of our client, a union worker who fell due to an unsecured scaffolding plank and sustained neck, back, and shoulder injuries requiring a single level lumbar fusion
$3,000,000 for our client, a 45-year-old union carpenter who he fell off a 6-foot A-frame ladder injuring his spine. He underwent a laminectomy at levels L2-5. Plaintiff had a significant pre-existing lumbar spine condition. In the years preceding the accident he had several spinal injections, the last of which took place just three months prior to his accident
$2,500,000 settlement for a demolition worker who suffered serious injuries after falling from scaffolding while he was in the process of removing an HVAC duct
$1,750,000 settlement for our client injured on a construction site while transporting sheetrock on a cart, which tipped over because one of its wheels locked while contacting debris. Plaintiff tried to prevent the cart from tipping over and injured his back, which resulted in a single level hemilaminectomy
$1,300,000 settlement for our client that suffered near blindness in one eye when a screw penetrated his eye while using an electric screw gun.
$1,000,000 settlement for a trip and fall accident for an unemployed pedestrian that injured his neck
$1,000,000 settlement for our 52-year-old client that tripped and fell on a sidewalk and underwent a microdiscectomy and hemilaminectomy at L4-5
$1,000,000 settlement for our 45-year-old client who slipped and fell on a sidewalk causing her to fracture her arm, sustain nerve damages, and undergo open reduction internal fixation surgery
$925,000 settlement for our client who fell when a scaffolding collapsed causing head, neck, and back injuries. He did not undergo any surgeries and sustained a concussion that resolved uneventfully
$750,000 for a 56-year-old unemployed passenger in a motor vehicle accident which resulted in a knee arthroscopy
$699,000 for a 20-year-old HVAC technician that fell from a ladder injuring his shoulder, which required arthroscopic repair
$650,000 for a retired police officer who injured her knee in a light impact motor vehicle accident
$600,000 for our client who sustained an arm injury requiring surgery when she was bitten by a canine

$600,000 for our client who sustained a shoulder injury that required arthroscopic surgery after he tripped and fell due to an extruding nail at a job site 

$597,500 for our client who fell into a hole and sustained a calcaneal fracture that healed uneventfully
Mr. Stern has tried many cases to verdict and has found success at both the trial and appellate level. His skilled, passionate, and unyielding approach to litigation continues to bring about favorable results for his clients.
Fill out our short online contact form for a FREE, immediate case review, or call us locally at 212-736-5300 today. The lawyers in our firm work on a contingency basis, so we do not collect any money unless we win your case.